Jan 23, 2015, Buffalo Business First, By Allissa Kline. [original]
Jeff Ware's new West Side brewery has one mission: produce high-quality beer that people want to  buy.
But the salesman-turned-entrepreneur is well-aware that Resurgence Brewing Co., the seven-month-old brewery and beer garden located in a worn-down industrial district on Niagara Street, could do much more if it keeps drawing buzz, crowds and praise. It could be a spoke in the wheel of Buffalo's economic renaissance.
"Breweries help cities come back because they're visible," said Ware, 33, whose team spent $1.2 million to turn a former warehouse into a brewery. "You can see it, touch it and taste it, so it's tangible evidence of the change happening in that city or town. We just want to make good beer, but if something more happens, we wouldn't be the first brewery to change a neighborhood."
Small craft breweries such as Resurgence are breathing new life into communities across the country, including parts of Buffalo, where a long-overdue brewing rebirth is underway. In a city that had more than 30 breweries at one time, the newfound demand for locally made beer is real and the economic potential is huge — for the city and the region.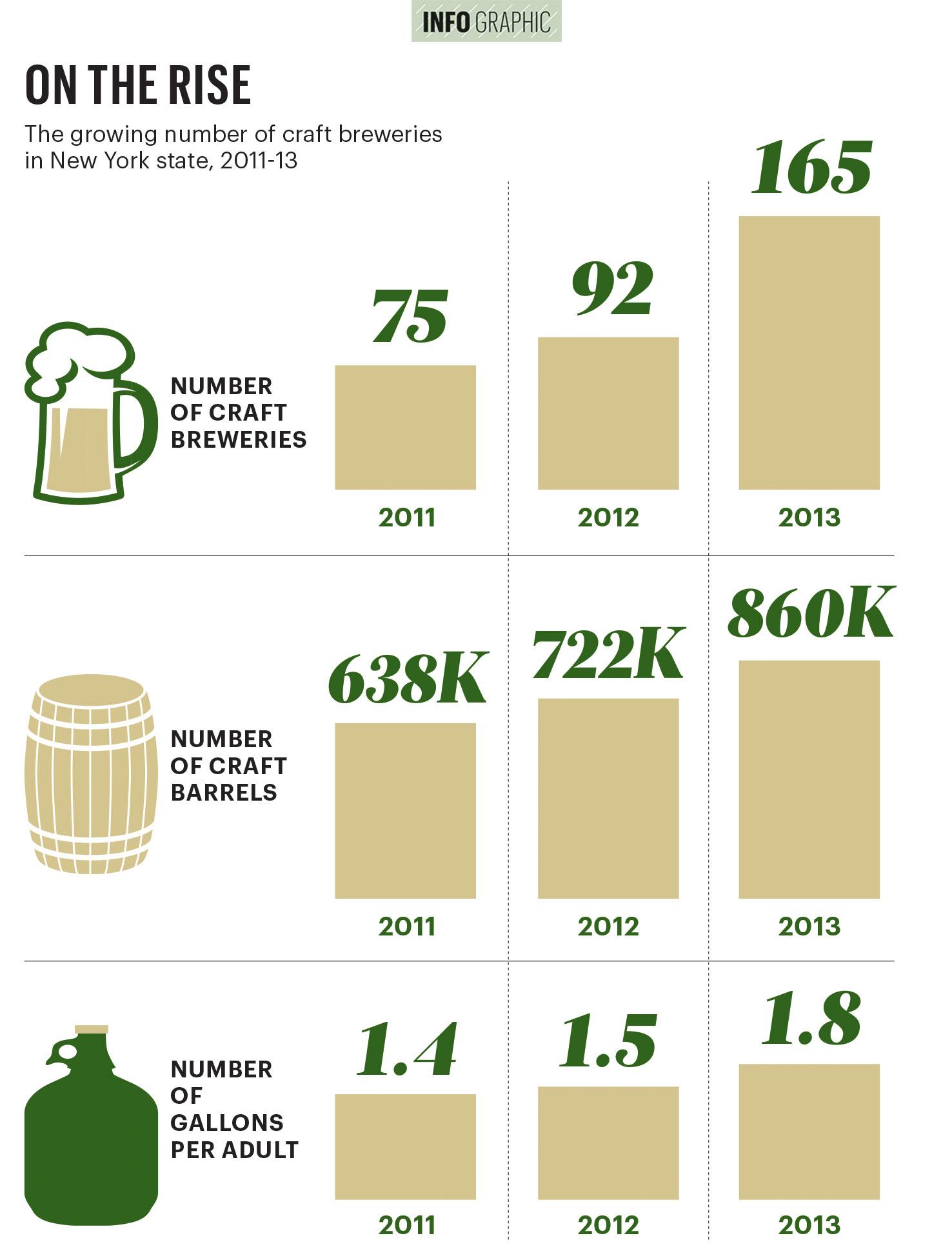 According to the national Brewers Association, craft breweries in New York state contributed $2.2 billion to the economy in 2012.
There is no breakdown of the regional impact, but a glance at the number of new breweries, brew pubs, distilleries and suppliers shows there has been and will be economic growth.
At least 15 breweries and brew pubs operate in Western New York, with at least seven within city limits. Farmers grow hops. Malt houses such as Niagara Malt and Queen City Malting spend hundreds of thousands of dollars to buy equipment to supply malt to brewers.
The financial investment is not going unnoticed. Tom McManus, CEO of KegWorks, said his 16-year-old beer supplies company experienced a dramatic rise in sales to those involved in the local craft brewing industry.
"There's some decent investment going into this — millions of dollars," McManus said. "These are some serious people investing serious money."
Brewing wasn't always such a novelty in Buffalo. In the latter half of the 19th century, the city was dotted with breweries, distilleries and malt houses. But the once-robust industry came to a halt in 1920 when Prohibition outlawed the production, transportation, import and sale of alcoholic beverages.
By the time Prohibition ended in 1933, the damage was done in Western New York.
Eventually, beer-making behemoths Labatt USA, Molson Canadian and Budweiser dominated the market, and they still do, though nationwide beer sales have declined.
But something else is happening within the craft beer segment. Sales and production rise every year.
In fact, the craft beer market generated a whopping $33.9 billion in 2012, according to the Brewers Association. That figure includes breweries, wholesalers and retailers, as well as non-beer products such as food and merchandise sold in brew pubs.
Experts say the demand for "more flavorful" beer is leading to a cultural shift in consumer drinking preferences. Younger drinkers especially are turning away from national brands in favor of craft brews.
That's where opportunity awaits for Buffalo, according to Patrick Kaler, president and CEO of Visit Buffalo Niagara, which promotes tourism in Western New York.
The expanding brewing industry is good for residents — it means more jobs and more dollars — but it's also another draw for tourists who want a "well-rounded experience," he said.
"What's really exciting is that breweries are popping up in new areas of Buffalo like Niagara Street and Larkinville," Kaler said. "These are all areas that are developing along with great other assets, and the breweries are adding to that. It's exciting because they're drawing people into other areas."
That includes Buffalo's Old First Ward, where the new owners of Gene McCarthy's Bar now brew their own beer, and Larkinville, where Flying Bison Brewing Co.'s $2 million production facility and tap room came online last fall. Tim Herzog co-founded Flying Bison in 1995 and began selling beer in 2000. For the next 12 years, Flying Bison was the only production brewery in Buffalo, until Community Beer Works began selling beer in April 2012.
Today the company is owned by Utica-based F.X. Matt Brewing Co., which put up the dollars for Flying Bison's new facility.
Herzog said the dearth of local breweries was caused by a lack of awareness about craft beer and the overwhelming influence of mass producers.
"For a long time, it seemed like we were beating our heads against a door," Herzog said. "But in Buffalo, in the last four or five years, there's been a complete cultural shift in terms of beer. We're at a point now where we could see 10,000 barrels a year coming out of Flying Bison, and that's still in just Erie and Niagara counties, maybe a third county if we add one."
Bart Watson, staff economist for the Brewers Association, said the brewing industry in New York is "growing very rapidly," in part because of the state's newly adopted craft beverage laws. The most recent legislation, signed into law in November, allows producers to serve pints on-site.
Still, craft beer sales comprised just 7.8 percent of beer sales nationwide in 2013 — and just 6 percent in New York state — which means there's lots of room for growth.
Watson said he expects total sales in 2014 to top 10 percent when the latest data is compiled.
Of course, the viability of brewing in Buffalo depends on quality — no one wants to drink bad beer — but it also depends on the region's ability to sell itself as a beer destination.
The Buffalo Niagara Brewers Association was formed in 2013 to raise awareness of the region's brewing scene as a tourism magnet. The originator of the annual Buffalo Beer Week wants Buffalo and Western New York to be known for beer, much like Portland, Seattle and Asheville, N.C.
"I think we need to do everything we can to get our arms around this industry and promote it because it is such an opportunity for our region," BNBA Chairman Willard Brooks said. "There's a multiplying effect that comes from this, so making sure we get above the noise and get recognition as a beer destination is critical. That's the biggest challenge and it's extensive."
In an effort to kick up awareness, the New York State Brewers Association is launching the "Think New York, Drink New York" advertising campaign with the help of $250,000 in state funding. The group has 130 brewery members statewide.
Executive Director Paul Leone said Buffalo's brewing industry is "growing at a pretty good clip," but there's lots of room to sell more craft beer here.
"As long as the quality stays up, then the industry will continue to grow," Leone said. "As soon as it drops, then you'll see it decline. People are not going to drink poorly produced beer."
Quality is top of mind for most brewers. They know that one bad beer will affect the reputation of the industry, so brewers test in small batches to ensure they have a top-notch product.
And their efforts are paying off. Community Beer Works, the city's first nanobrewery, garners consistent praise for its beer and last March landed on a Business Insider list of top 10 craft breweries in New York state.
The company's production facility is located just off Niagara Street, near Resurgence. It recently opened a satellite site at Hydraulic Hearth in Larkinville, a new restaurant that will serve only Community Beer Works beer.
"This is about a desire for things that are local, things that are seasonal or regional or have some sort of relationship to where they're from," co-founder Ethan Cox said. "And I don't think it's a fad because I think it's the natural state. This is all kind of how it was."
But how far will the local brewing scene be able to grow? Is there a point at which the market can't absorb any more breweries?
Brooks said the city alone would support around 20 breweries, as long as the market share for craft beer continues to increase.
Others are hesitant to put a number on the total possible breweries. But there is a consensus from brewers that the demand for local beer will keep rising.
Back at Resurgence, Ware said the reception to his small business has been overwhelming. And it's all part of what's happening on a broader scale in Buffalo and Western New York, which he said is undergoing its own resurgence.
"You can see people want to come downtown and do cool stuff, and the breweries are part of that," he said.